Why Mount Xanadu is the best family resort in Wayanad?
'Which is the best family resort in Wayanad?
One of my friends ask for recommendations while we were having a conversation.
Because it is the time for celebration! Again April is here. Schools closed! Vishu, Easter, and Eid come together. Don't you think why celebration is needed!!
Celebration is the time when people gather and take a break from the monotonous tasks of everyday life. When we imagine celebration mode our heart promotes us into a state of ecstasy.
Right?
He described the enthusiasm of children to discuss it with family and as it is scorching outside, Wayanad would be the choice. Wayanad is best known for its natural beauty including lush greenery, meadows, a variety of flora and fauna, sparkling waterfalls, and forest.
But the question is which is the best family resort in Wayanad?? Revealing the best luxury family resort in Wayanad
Welcome to Mount Xanadu-Premium family resort in Wayanad
Let's delve into the topic and check
7 Amenities of the best luxury family resort in Wayanad
Well, as we are the award-winning resort in Wayanad, we would like to explain our best-loved features.
Lake and hill views: Our resort is situated amid lush greenery and is surrounded by breathtaking views. so, the guest can enjoy the natural beauty right from the room, resort ground, or from observation deck!
Romantic ambiance: If you are a newlywed couple or an age-old, romance is something you need to rekindle throughout. keep in mind, we have candlelight dinner, private balconies, and an enchanting garden for strolling hand in hand!
Infinity swimming pool: want to take a refreshing dip and enjoy the spectacular views? Swim and enjoy your time with your loved ones
Children's park: Our play area is popular among kinds with a variety of equipment. Leave your children freely and let them play. Sure, they will enjoy it at the core!
Buffet: Our buffet is something we barge about. Because it offers a variety of local and international customers. Moreover, everything lip-smacking
Spa: if you want a perfect place to relax, and rejuvenate, our spa treatments will help you.
Jacuzzi: with an extra touch of luxury, we let you soak in warm water and enjoy the scenic beauty outside. If you don't have any jacuzzi experience. You must try it once.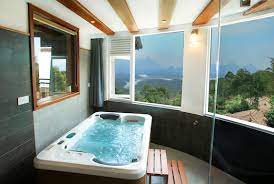 Well, we have something for everyone and it makes a perfect destination for a family outing.so, if you decide to visit Wayanad and are confused about the stay, don't think twice. Just book your appointment at Mount Xanadu and enjoy your stay.
It is just an escape into paradise.
For Reservations, call: 08606310202, info@mountxanadu.com