Mount Xanadu: Luxury Glamping Resort in Wayanad
Are you in search of a truly unique and breathtaking experience on your trip to Wayanad? Look no further than Mount Xanadu, the luxury glamping resort in Wayanad that offers an unparalleled blend of luxury and nature's beauty. Nestled in the heart of Wayanad's lush mountains, Mount Xanadu beckons travellers seeking new and extraordinary experiences. Read on to discover why this destination is a must-visit for those looking to indulge in the lap of luxury amid Wayanad's pristine landscapes.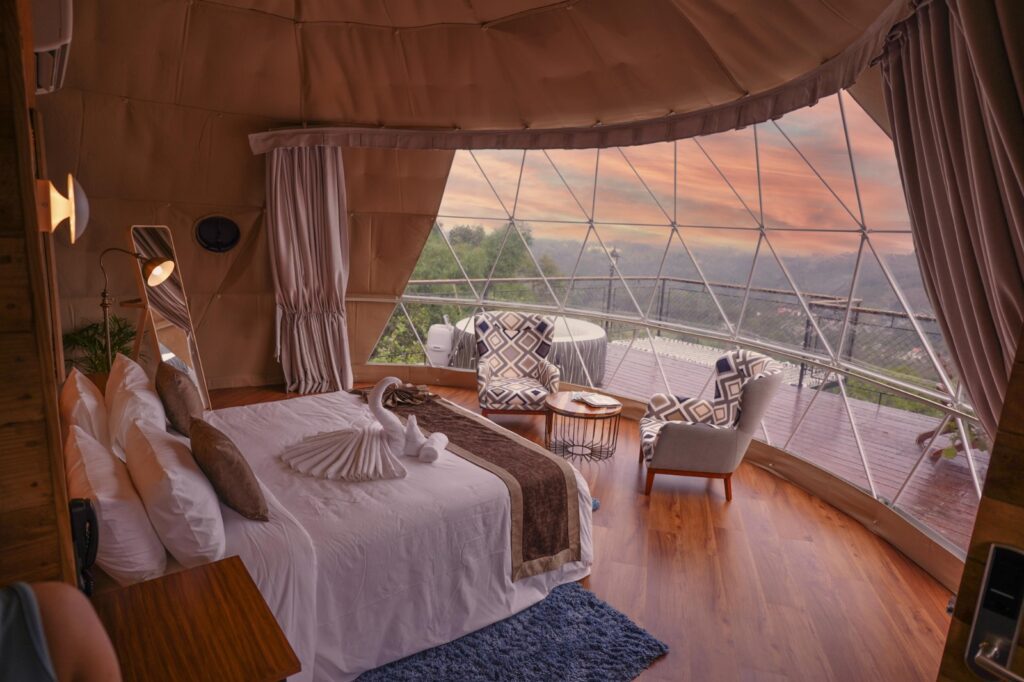 Embrace the Allure of Glamping
Glamping, a fusion of "glamorous" and "camping," brings the thrill of outdoor adventure together with the comforts of a premium resort. At Mount Xanadu, you'll find this harmonious balance, allowing you to revel in the untouched wilderness without sacrificing modern amenities.
Breathtaking Mountain Views
One of the primary reasons to choose luxury glamping in Wayanad is the mesmerizing location. Set against the backdrop of Wayanad's rolling mountains, the Mount Xanadu offers panoramic views that are nothing short of awe-inspiring. Wake up to the sight of misty hills and the sound of birdsong, creating a serene atmosphere that's perfect for relaxation and Refreshing.
Luxury Accommodations
Mount Xanadu's luxury glamping tents redefine opulence in the wild. These spacious, well-appointed tents feature plush bedding, elegant furnishings, and private balconies. You can unwind and stargaze at night, basking in the tranquility of your surroundings.
World-Class Amenities
For those who appreciate the finer things in life, Mount Xanadu leaves no stone unturned. It boasts an array of amenities including gourmet dining, Ayurvedic spa facilities, cave room and an infinity pool. Savour delectable local cuisine made with fresh ingredients while enjoying the stunning mountain backdrop.
Adventure and Exploration
Beyond the luxuries, Wayanad has an abundance of adventures to offer. Mount Xanadu arranges various outdoor activities such as guided treks, outdoor games, and nature walks. Immerse yourself in the unique flora and fauna of Wayanad as you explore the neighbouring forests and hills.
Eco-Friendly Commitment
Mount Xanadu is committed to preserving the natural beauty of Wayanad. The resort employs eco-friendly practices to minimize its environmental impact. Staying here means experiencing luxury while knowing you're contributing to the region's sustainability.
Plan Your Escape to Mount Xanadu the luxury resort in Wayanad
In Wayanad, where the Western Ghats meet pristine nature, Mount Xanadu stands out as a beacon of luxury glamping in Wayanad. The blend of breathtaking mountain vistas, premium amenities, and immersive outdoor experiences make it the perfect choice for travellers in search of something extraordinary. Whether you seek serenity, adventure, or cultural enrichment, Mount Xanadu has it all. Make your next trip to Wayanad an unforgettable experience by choosing Mount Xanadu as your haven in the hills. Book your stay today, and let the magic of Wayanad unfold before your eyes.